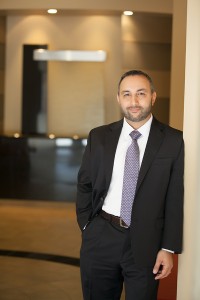 MUA-FRP is, as you can tell, a complicated and important procedure with many small elements that someone improperly trained or informed can easily overlook. It is important that you visit a qualified practitioner, and Dr. Dhesi is the expert, offering professional and effective services tailored to every patient.
It is also extremely important that your post-procedure physician is knowledgeable in this field as any incorrect or missed exercises, stretches or mobilizations may have a negative effect than can undo the work of the MUA procedure, or even worsen your previous condition.
Having worked in this field for many years, Dr. Dhesi's experience and knowledge make him one of the best doctors to visit for any MUA queries, concerns or related issues not only in California, but in the world.
About Your Physician
Sarbjit "Sarb" Dhesi, D.C.
Dr. Dhesi is a Manipulation Under Anesthesia (MUA) Certified chiropractic physician located in the San Francisco Bay Area of Northern California. He has been involved in Manipulation Under Anesthesia since 1999. At that time he was one of only a handful of chiropractors in all of California to be trained and performing Manipulation Under Anesthesia. He has continued to be a sought-out MUA physician.
When you want a procedure you want to go to someone who is an expert in the field, someone who has seen a lot and treated a lot of different cases. You get that with Dr. Dhesi.
Training and Credential History
His initial training and proctorships were in Texas with Dr. Robert Francis [the first chiropractor to start performing MUA procedures with a multi-disciplinary team, starting in 1985] back in 1999. After that training Dr. Dhesi sought additional training and refinement by attending other accredited programs including programs with Dr. Robert Gordon the author of Manipulation Under Anesthesia Concepts in Theory and Application.
Currently Dr. Dhesi is credentialed by 5 different accrediting programs throughout North America. He has been brought in as a speaker, instructor, and proctor for different programs. He also helped develop protocols for local surgery centers whom were starting their initial Manipulation Under Anesthesia programs. Dr. Dhesi is on the advisory panel for the International MUA Academy of Physicians and National Academy of MUA Physicians. Dr. Dhesi was recently part of a Delphi panel for the published: Guidelines for the practice and performance of Manipulation Under Anesthesia.
With his experience and training in Manipulation Under Anesthesia, he was selected to receive a Fellowship status with the Royal College of Chiropractic Medicine a part of the Royal College of Physicians — US. He also received a Diplomate with the American College of Chiropractic Specialties for his role in performing Manipulation Under Anesthesia. To put that in perspective, there are less than 12 chiropractic doctors in all of the world that hold these distinctions. He also holds a Diplomate with the American Academy of Pain Management.
He currently practices in Northern California with a private and concierge practice. Patients are welcome to contact him for consultations and evaluations. He does offer Skype consults for out of the area patients.
Due to the nature of the procedure and his specialty, he does get requests to see and work with patients out of the area. In those situations Dr. Dhesi and his staff can coordinate schedules, hotel and transportation as necessary, with some rehab at his office prior to the patient returning back home.
Consulting with Dr. Dhesi
Dr. Dhesi can be reached for consult at his San Ramon, California office. He is also available at outside offices in Northern California if necessary and schedule permits. Please bring all reports, diagnostics testing results and films with your during the appointment.
Consults over Skype are also available for out of the area patients. Prior scheduling will be necessary to coordinate an appointment time. Additionally medical records or imaging will need to be forwarded to Dr. Dhesi's office for review for the consult.
Please fill out a contact form or call Dr. Dhesi at his office.
Visiting Dr. Dhesi
Dr. Dhesi is located in the beautiful San Francisco Bay Area of Northern California. He will provide consults and follow up at his San Ramon office location.
If you are coming from out of town, plan on staying and enjoying all that Northern California has to offer…
From the scenic San Francisco and Fisherman's Warf…
To Napa and the Wine Country…
To Lake Tahoe and fun in the snow….
To the beaches and beautiful views of the central coast…
Visiting Northern California from anywhere in the world can make your trip with while. Getting your treatment and regaining function while at the same time enjoying some rest and relaxation and experiencing the best of California.
Make it a health renewing vacation experience!